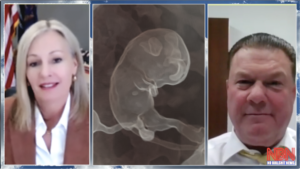 EXCLUSIVE — Oakland County vs. Macomb County
If the US Supreme Court overturns Roe v. Wade, Michigan abortion rights will default to a 1931 Depression-Era law outlining the procedure.
OAKLAND CO. V. MACOMB CO.
Oakland County Prosecutor Karen McDonald (D) says she won't prosecute doctors who perform abortions if the law is overturned.
Macomb County Prosecutor Pete Lucido (R) says it would be his constitutional duty to prosecute abortions.
+ Shouts from Aisle 7, the working man goes hungry
+ The long finger of the law. As many as 60 murderers are out on tether. The Interim Wayne County Sheriff's political opponents say he's not laying his hands on criminals, but his female employees.
+ Comedian Detroit Red escapes from prison. Thanks Will Smith
Podcast: Play in new window | Download (Duration: 56:44 — 78.2MB)
Subscribe: Google Podcasts | RSS | More