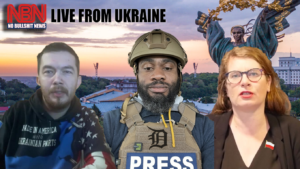 There's always a
#Detroit
angle to every happening in the world.
Witness:
NBN Chief Foreign Affairs correspondent is Taras Petro from Hamtramck, reports live from Ukraine. He is transporting refugees across the war zone in a '03 Hummer with Michigan plates. Naturally, his gas mileage is terrible and he's having trouble getting fuel. "The roads in Ukraine are like the alleys in Hamtramck," he reports.
Detroit native & freelance journalist Terrell Jermaine Starr reports live from Ukrainian militia checkpoints He brings eye witness reports of a devastated Kiev, paranoia, and a pistol put to his head.
And — one of Europe's greatest war correspondents, Agnieszka Lichnerowicz on the ground in Lviv, Ukraine.
Meanwhile, here at home —
More
#Covid
dead discovered in Michigan's nursing homes Yet, Gov. Whitmer and the media silent, wanting you to forget their past sins of the pandemic. Republicans respond by lining up a list of nobodies to challenge her.
Plus the times we live in — what to feed your dog, in case he one day becomes your dinner.
Podcast: Play in new window | Download (Duration: 1:50:21 — 151.9MB)
Subscribe: Google Podcasts | RSS | More