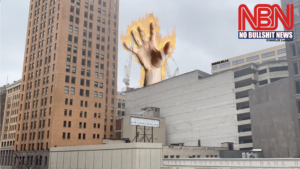 If Republicans want to run Michigan they got to get their own names straight. Is he Chief Craig? Sheriff Clark? Captain Morgan? Even his lawyer doesn't know his name. And who is the dead guy signing the ballot? Sheesh!
This isn't the first time Chief Craig or Chief Clark or Chief whomever has been the victim of a signature scam.
News from the Southern border — Illegal immigration is the highest in two decades. On Monday Trump's "remain in Mexico" Title 42 expires, and Poncho Ortiz, TX-based cartel correspondent, says as many as one million illegals will enter the country every month.
News from the Northern border — Steve Watson, the legendary Buffalo Scribe, gives us an inside look into the massacre of 10 Black residents in one of America's worse mass killings in U.S. history.
Show and tell? Taxpayers shoveled $650M into billionaire Dan Gilbert's pocket to build Detroit's highest skyscraper – which is a fraction of the promised size, reminding Red of a night in the club with Whatiznayme.
Governor Gretchen still stretchin' the truth. She's been taking a victory lap over the number of people she refuses to acknowledge who died in her nursing homes. Unconvinced. Kevin Bledsoe's Uncle was beaten to death by a COVID infected schizo put there by the Whitmer gang. His charges? Dismissed.
Podcast: Play in new window | Download (Duration: 1:10:55 — 113.9MB)
Subscribe: Google Podcasts | RSS | More