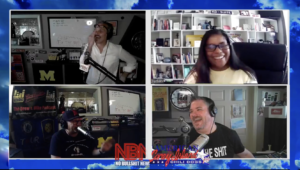 We at the No BS Newshour might be all mixed up, a little bleary-eyed; but we see true colors.
Gov. Whitmer took a jet. Present the check and show it's been cashed.  That's the least of her worries- It's those nursing home deaths.  Is it worse than we know? Our Freedom of Information lawsuit is being settled. Wait for it… it's coming.
Confirmed: Chief James Craig will be running for Governor according to a source who wears the same underpants with the chief… at the same time.
A new poll shows Craig v. Whitmer is close.  Detroit Red's Harris poll shows you should never send a comedian to conduct a poll.
#NextWeeksNewsToday
Podcast: Play in new window | Download (Duration: 1:16:13 — 52.4MB)
Subscribe: Google Podcasts | RSS | More